HITBOX CT520 4 in 1 Pulse TIG Welder Plasma Cutter Welder&Cutter
clause



CT520:
【4-in-1 Plasma cutter/welder combo】:

110v/220v 10-50Amp High Frequency plasma cutter max ideal cut thickness: 1/2" ;
Max Severance Thickness: 3/4";
200amp TIG Pulse Welding Equipment allows welding thinner metals and
high heat conductive metals without burning through.
200amp stick/mma/arc electrode welder Efficiency: 80%.
Real current extending the weld cable to 168 ft does not attenuate the current
【Foot pedal remote control】:

Synergic Control,Automatic change of the voltage by adjusting the amperage.
Comes with foot remote control / proximity control with MMA, TIG welder
can improve welding efficiency, reduce the hassle in pedal control current
and guarantee quality (suitable for cutting and welder).
The current fast heating (hot boot), slowly down, is
good for the formation of the welding pattern

【Versatile welding, cutting machine】:

Cuts many metals including
stainless steel, aluminum, titanium, cobalt, nickel alloys and cast iron.
Includes soft-switching technology and full-bridge
design for a longer life and stable arcs at low temperatures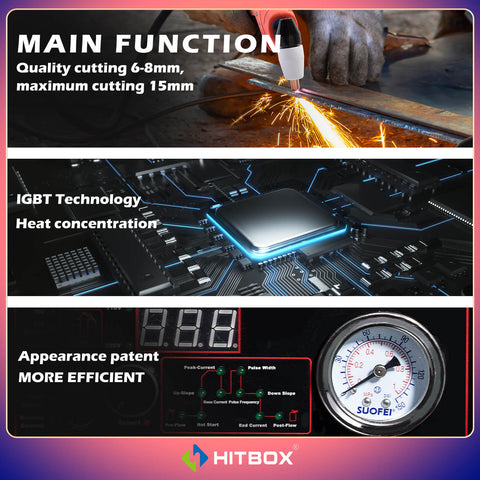 【IGBT inverter & 2T 4T Function】:
Hitbox CT520 inverter welder uses secondary inverter technology and
pure square wave output, does not penetrate thin plate.
Concentrated heat, strong reverse cleaning capacity, wide cleaning range,
continuous arc. 2T(Manual) / 4T(Semi-auto) switch is available
you can release your finger for long time welding job when on 4T

【BUY WITH CONFIDENCE】:
Backed by a 1-year warranty, we're committed to after-sales service.
HITBOX have been specializing in welding industry for 10 years
and we are committed to providing the best machines for welders around the world.
This all-round intelligent CT520 welding machine can meet your various welding needs
one-key switch of five welding modes. MMA/CUT 2T/CUT 4T/TIG 2T/TIG 4T With ARD function.
When you call HITBOX's Technical Service department
you will speak to a trained product and application welding expert.
If you meet any problem when using this machine, please feel freely to message us.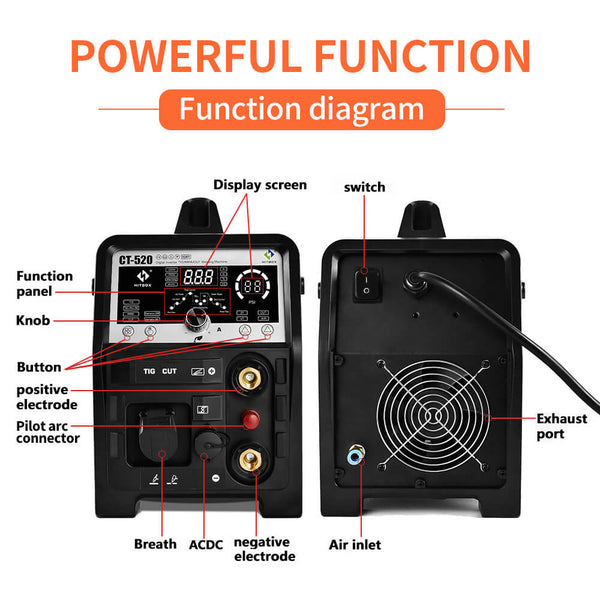 HUMANIZED DEIGN & EASY TO USE- CT520 plasma cutter came with air pressure regulator, you do not have to install air pressure regulator. Able to operate when the external air pressure is too high. Equipped with LCD digital display and portable handle make it very easy to use and carry.
LOWER COST - CT520 50AMP plasma cutter is made of high quality components. By adopting the most Advanced inverter technical of switch power, as well as the Product life and work efficiency are increased by 50% than ordinary machines, smooth cutting surface.
Specification
Weight:40Lbs

Size: 20*15.5*15Inch

Voltage: 110V/220V

Non-load current: CUT/280V ,TIG /59V

Suggested pressure: 220V/4.0KG,110V/3.5KG

Suggest circuit interrupter:220V/40A, 110V/63A

Cut thickness: 0-20mm

Cutting material: Iron, stainless steel, copper, aluminum, galvanized plate, carbon steel
| | | |
| --- | --- | --- |
| CUT 2T 0.1-3mm thin plate quickly cuts neatly, the profile is not deformed, and the thick plate 3mm-14mm is neatly cut without burrs. CUT 4T can be connected to CNC, after contacting the arc, you can keep cutting continuously without pressing the gun. | MMA manual welding mode: fast spot welding, continuous pull welding and continuous arc. VRD reduces no-load loss, prevents electric shock, and the output voltage drops below DC36V.All-round intelligent welding machine, one-botton switch of 5 welding modes. | TIG 2T can quickly spot welding.TIG 4T PLUS continuous welding is more convenient. 4T : a cycle before blowing time, arc current, rise time, peak current, valley current, decay time, arc closing current, after blowing time, The pulse frequency and duty cycle are one cycle, and the current of any function within the cycle can be adjusted. |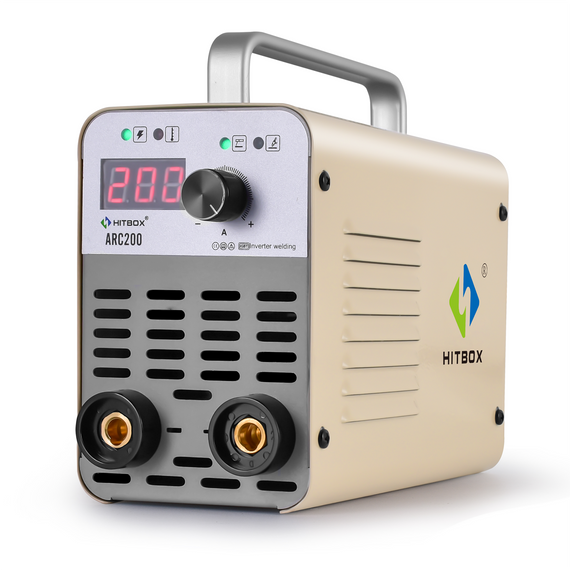 Are you in the market for a high-quality MMA welder that won't break the bank? Look no further than the HITBOX ARC200 MMA Welder. In this blog post, we will explore why this...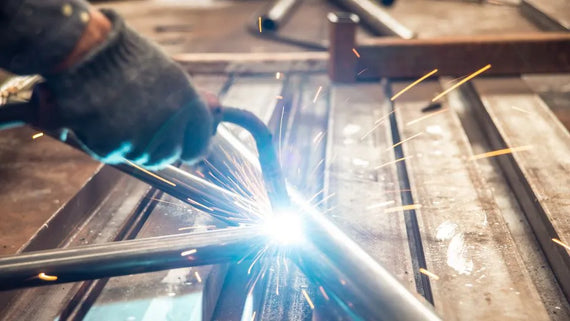 When it comes to welding, there are several different methods to choose from. Each method has its own advantages and disadvantages, and the choice often depends on the specific application and the welder's...