HITBOX HBT2000 2 in 1 TIG MMA welder
clause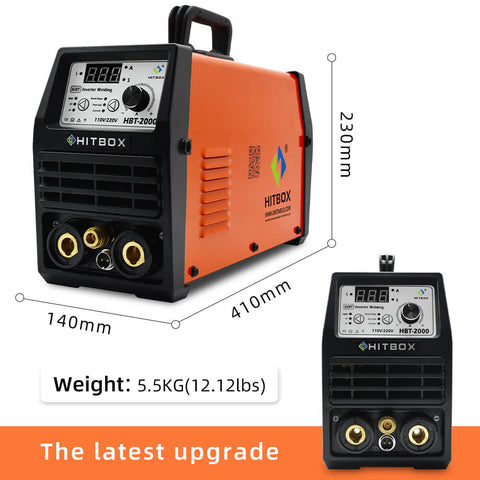 HBT2000:
2in1TIG/MMAWeldingMachine.
Theactualoutputcurrentis20-200Amp.
TIGsupports2T/4Tfunction.2T:arcstartswhentheswitchispressed;4T:
Justpresstheswitch twice,onetostartandonetoend.
Supportfastspotwelding,cansetdownslope/postgas/current.
Supportweldingof0.3mmultra-thinplate,andthematerialisnotdeformed.
UpgradeIGBTinvertertechnology,withintelligentfunction,morethan3minuteswithout
working,automaticallyenterstandbystate,reducenoise,reducepowerconsumption.
Suitableforweldingstainlesssteel,alloys,carbonsteelorothernon-ferrousmetals.
1year warranty,restassuredtochoose.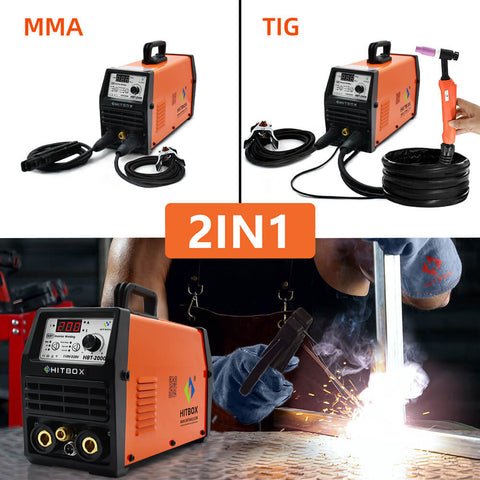 Product Features:
- Brand new and high quality
- Appearance design patent, Digital LED display when use, Featuring controlling knob,start with VRD, With gas delay adjustment function knob,and 2T 4T function.
- Adopts IGBT module technology, energy-saving and stable heat dissipation
- 60% high duty cycle, lower cost operation, superior output, convenient quick connection for the output makes it quick, safe, simple and stable
- Hot striking ARC current is adjustable, greatly improve the ARC-starting function
- Start ARC easily, stable welding ARC, anti-stick, deep weld pool and beautiful welding shape
- Efficient air-ejection and heat-ejection technology
- Over-heating protection, over-voltage protection, over-current protection
- Adopt newly IGBT inverter technology, Compared to MOS Technology, greatly reduce breakdown
- Inverter frequency up to 100KHZ, the technology is mature, stable performance
- TIG Welding thickness 0.3-5.0mm, and application of electrode diameter (MM): 2--3.2mm;
- Easy arc ignition, litter spattering, stable current and good shaping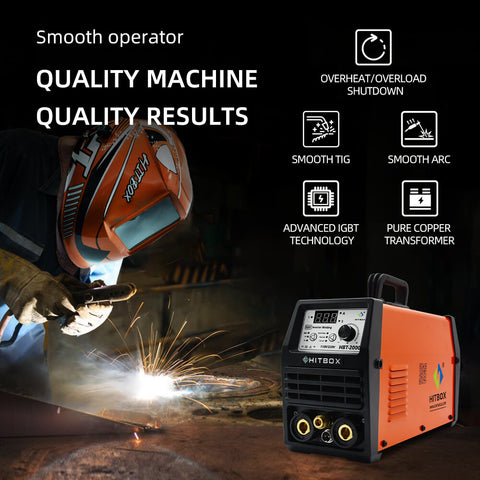 Product Details:
- Color: Orange
- Weight: About 9.5kg
- Inverter Technology : IGBT
- Input Voltage(V) : 110V/220V
- Frequency(Hz) :50/60HZ
- No-load Voltage(V) : 114v
- Output Current Range(A) :10-200A
- Rated working Voltage(V) :TIG:15.6V/ARC:25.6V
- Duty Cycle(%) :60%
- No-load Loss(W) :40W
- Arcing Way :Transfer
- Efficiency(%) :80%
- Power Factor :0.73
- Insulation Grade :F
- Housing Protection Grade :IP21S
- Base Material :Carbon,Stainless, Low-alloy steel Plate
- Thickness(mm) :0.3-6.0mm
- Welding Process :TIG / ARC
- Electrode Diameter(mm) :2-3.2mm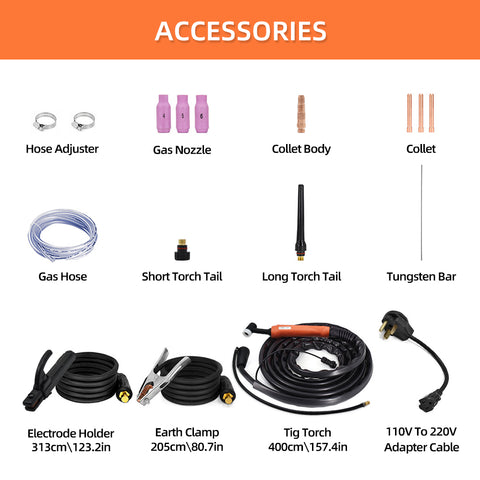 Package Include:
1 x high frequency Tig torch
1 x Electrode holder+ Cable
1 x Earth clamp+ Cable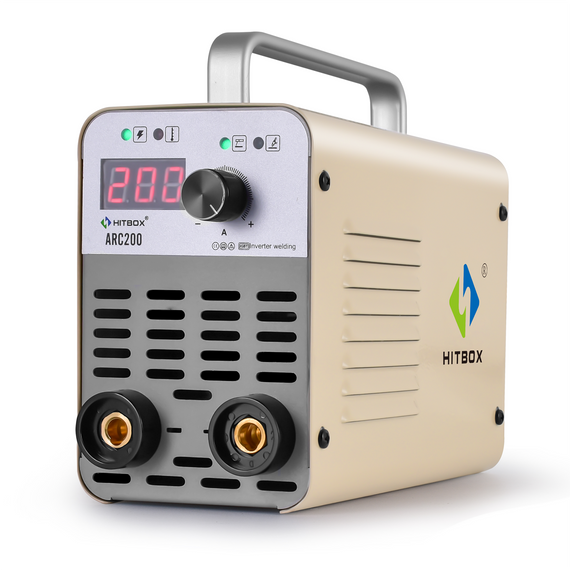 Are you in the market for a high-quality MMA welder that won't break the bank? Look no further than the HITBOX ARC200 MMA Welder. In this blog post, we will explore why this...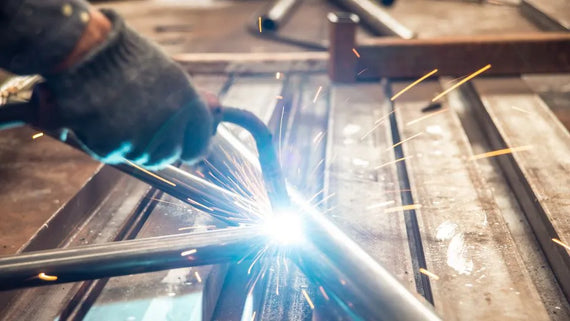 When it comes to welding, there are several different methods to choose from. Each method has its own advantages and disadvantages, and the choice often depends on the specific application and the welder's...